Full Service Guiding and Instruction
South River Fly Shop is proud to offer full service guiding and instruction.
Our Virginia fly fishing guides have created a variety of packages to suit your budget, preferences and needs. Review the options below, and when you're ready, contact us to book your spot.
Our days fill up fast during peak season, so please plan accordingly.
South River
1 or 2 Anglers
1/2 or Full Day
1 Block From Shop
Native / Wild Trout
1 or 2 Anglers
Backcountry Trip
Native/Wild Trout
Shenandoah or James
1/2 day 1 or 2 ($375)
Full day 1 angler ($425)
Full day 2 anglers ($475)
Smallmouth
Lunch Included
Jackson River
1 or 2 Anglers
Full Day Float
Trout
Lunch Included
GUIDED TRIP CANCELLATION POLICY
Deposit is nonrefundable if trip is cancelled 14 days or less from date scheduled for trip. Rescheduling will be offered for cancellations 7-14 days out but a refund of the deposit will not be offered. Trips cancelled 6 days out or less forfeit the deposit. Any trips cancelled by the South River Fly Shop due to weather or water conditions will be refunded in full unless the client prefers to reschedule.
Our Virginia Fly Fishing Guides
John Waller
John is a native of Lynchburg where he started fly fishing in his early twenties. John spent his early years fly fishing exploring the trout and warm water fisheries of central and western Virginia. In 2016 John moved to Waynesboro where he soon started working part time at South River Fly Shop. Smallmouth bass, stripers, carp and other warm water fish are his favorite pursuits, but he is just at home on any trout stream. John specializes in our float trips for Smallmouth Bass and our Jackson River Trout Floats.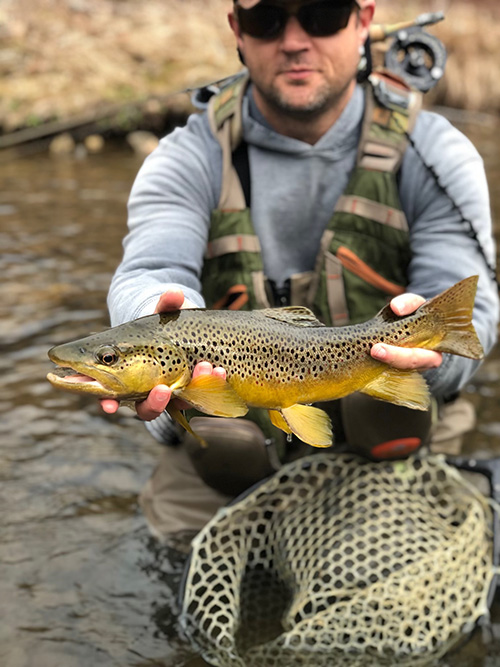 Reed Cranford
Reed grew up fishing for all things warm water near the small town of Ramseur in central North Carolina and began tournament bass fishing in Junior High and High School. While attending Appalachian State University in the late nineties he developed a life-long love of fly fishing for trout. After graduation with a degree in Environmental Biology and Ecology he was soon married to his wife April and began working as an Environmental Health Specialist for the state of North Carolina. In 2008 April completed her Master Divinity Degree and they moved to the Waynesboro area where she is currently the Pastor at Westminster Presbyterian Church and Reed settled in as an Environmental Health Specialist with the Virginia Department of Health. Reed spent the next few years exploring the trout waters on the South River and began guiding here at South River Fly Shop in the spring of 2014. Reed is also an active member of the Shenandoah Valley Chapter of Trout Unlimited. Reed's specialty is our South River trips and our hike in trips for native Brook Trout in the National Park and National Forest.

Montana Puffenbarger
Montana is a native to the region, growing up in the Riverheads area of Augusta County. He started fishing at a young age, focusing on trout with his father and carrying on the family tradition. He is also passing on the family fishing tradition to his daughter, who hopes to follow in his footsteps and guide when she grows up. Brook trout hold a special place in his heart. He has fished all over western VA, West Virginia, and Tennessee. He has since branched out to fishing bass and carp. He has also broadened his horizons to any kind of fishing: steelhead, salt fishing, and any kind of fishing that captures his attention.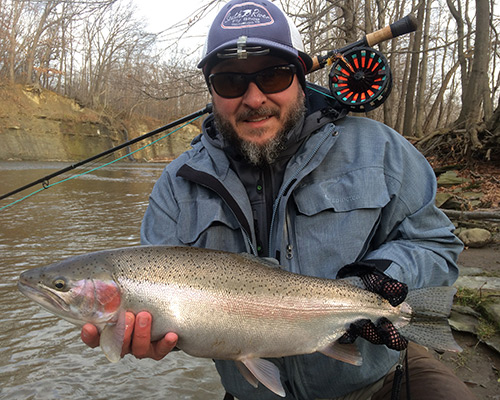 Tommy Lawhorne
Tommy has been exploring the waters of western Virginia for Trout and Smallmouth Bass with fly rod in hand since his early teens. Tommy began guiding in 1990 and has been active in Trout Unlimited at the Shenandoah Valley Chapter since 1992 where he currently serves as the Chapter President. Tommy and his partner Kevin Little opened South River Fly Shop in the spring of 2011 and have been serving the needs of fly fishers and fly tyers for the past 10 years. Tommy is a Wilderness First Aid certified M.E.D.I.C and guides for Trout and Smallmouth on all of our local waters when his shop schedule permits.
Kevin Little
Kevin is a native of West Virginia and started fly fishing at a young age there. A brief stint guiding while attending Marshall University ended when he transferred from the Army Reserves to the Air Force, where he served in Greece, Turkey, Germany, and North Dakota. After returning to civilian life, the wanderlust stayed with him. He has guided in West Virginia, Alaska, Montana, Alabama, Tennessee, Florida, Maine, and Virginia. An avid cyclist and bikepacker, during the warmer months he focuses on Brook trout in the Shenandoah National Park and the Washington and Jefferson National Forests. Once the weather cools off, it is time for spey casting to trout, salmon, and his favorite salmonid, Steelhead. As Co-Owner of the South River Fly Shop, he has less time to guide nowadays but still runs some of the back country Brook trout trips along with spey casting instruction and guiding trout spey trips in the area.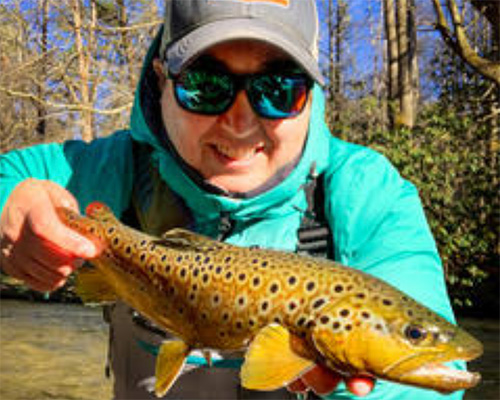 Jennifer Goodale
Jen has been fishing since she was 3 years old. She learned how to fly fish in the 3rd grade and has been hooked ever since. Jen grew up in Vermont, but now lives in Charlottesville. She has fished many places including Colorado, Wyoming, Montana, Idaho, most of New England, and St. Thomas. Her favorite species is brook trout, although she loves throwing poppers in the summer for bass. She has a passion for fishing and she loves to share that passion with others. Jen is a volunteer for Casting for Recovery and other cancer organizations for women. She has worked and guided for Orvis, as well as Stream and Brook Fly Fishing.
Hunter Wilson
Hunter is originally from Nelson County and has lived in Augusta County for the last seven years. Hunter is very familiar with our local and regional wild trout waters. He will be focusing on hike in trips in the National Forest, Shenandoah National Park and will be guiding on the South River as well.